Cease Tide of Wrong-Doing
Ka pari te Tai Moana
Ka timu te Tai Tangata

When the Ocean tide rises, the Human tide recedes.


"Ka moea taku patu me taku taiaha. Ko Tū-ka-riri, ko Tū-ka-nguhanguha, ko Tū-kai-Tauā! Uruuru mai te moata, tākina te pūata-Kaipo. Ko māuru anō te ao, ka hau rirerire mai Te Paki-ō-Rongo. Ka kuhuna taku me taku taiaha. Ko te rongopai o Te Atua ka marere mai ki ngā ngutu o ngā mātua tūpuna. Hau mai ki taku ngākau! Hau mai ki taku tinana! Hau ki ngā iwi katoa o te ao. Pai, mārire. (Te Ingo Ngaia)

Cease Tide of Wrong-Doing testifies to the pursuit of wealth and resources by British settlers in New Zealand and memorialises their belief that the land and resources of New Zealand were theirs to be taken.
This memorial takes the form of a niu, a feature of Pai Mārire ritual practice. Pai Mārire is a Māori gospel of peace established during the New Zealand Wars and the niu provided a means of divine communication and forecast the coming of war or peace. Pai Mārire was actively suppressed in Taranaki though maintained by Tainui Māori today.
Cease Tide of Wrong-Doing is an altar to the accumulation of personal wealth, and forecasts the winds of fortune via global trading markets. The arms of this niu carry model pāataka that represent the resources stolen from Māori people, during the founding of this nation and upon which colonial settler fortunes were made. Those same settlers led the charge for war in New Zealand and established financial institutions to fund their personal agendas. These motivations were not lost on Māori leaders of the nineteenth century who were seeking to maintain the livelihoods of their people, nor on their descendants who referred to the concept of taiporohenui – cease tide of wrong-doing – as a guiding principle of the 2015 Taranaki Iwi Treaty of Waitangi Settlement. (Anna-Marie White)
(Extracted from Tai Moana Tai Tangata's exhibition catalogue; also read essays about the event)

Join the virtual tour

Get the catalogue


2020
Kauri, wood and metal
9600 x 3000 (diam) mm
Special thanks to Matene Sisnett and Darren Engelbrecht

photos by Neil Pardington (Ngai Tahi, Ngāti Mamoe, Ngāti Waewae)


/

(Tai Moana Tai Tangata)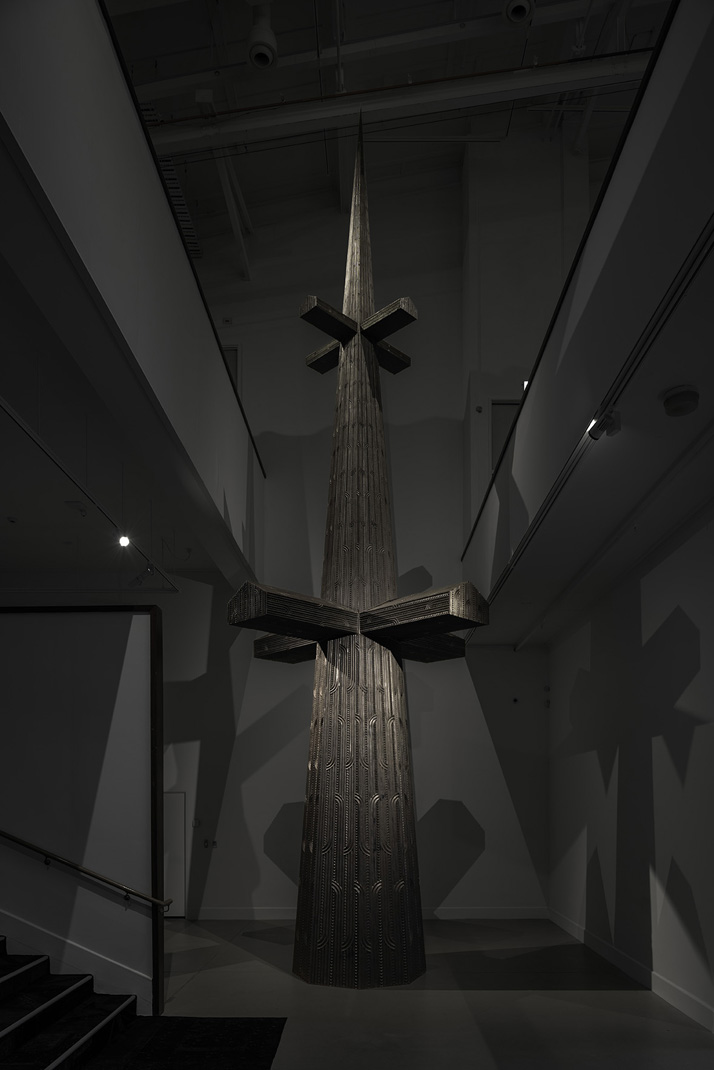 details
Cease Tide of Wrong-Doing
2020, Kauri, wood and metal, 9600 x 3000 (diam) mm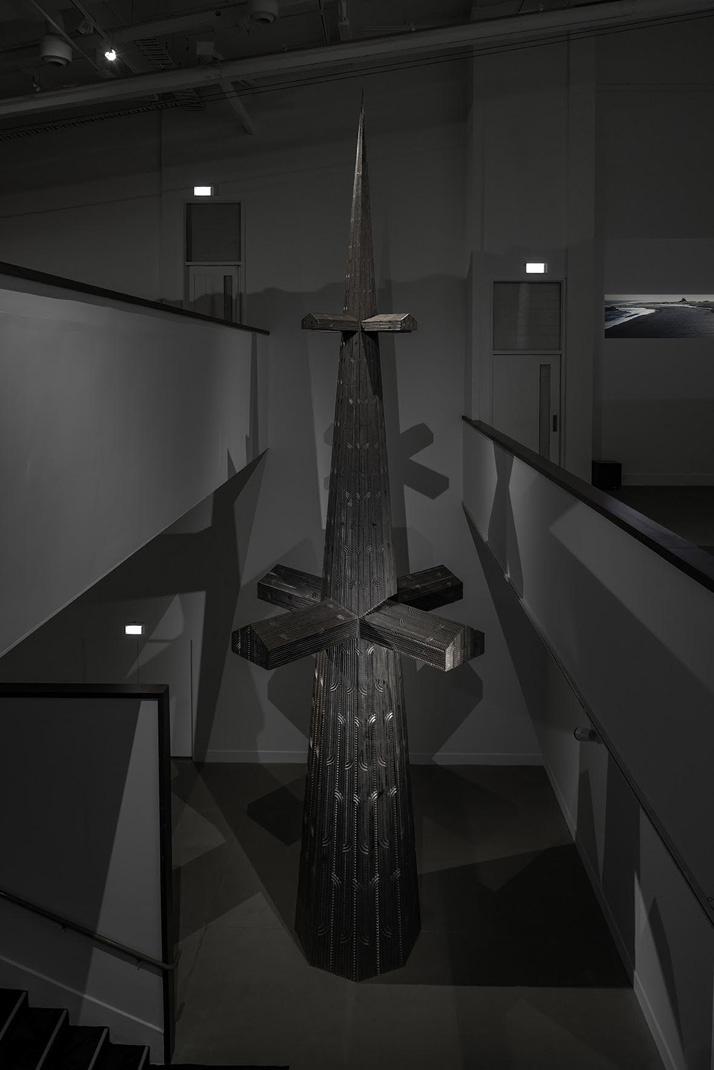 details
Cease Tide of Wrong-Doing
2020, Kauri, wood and metal, 9600 x 3000 (diam) mm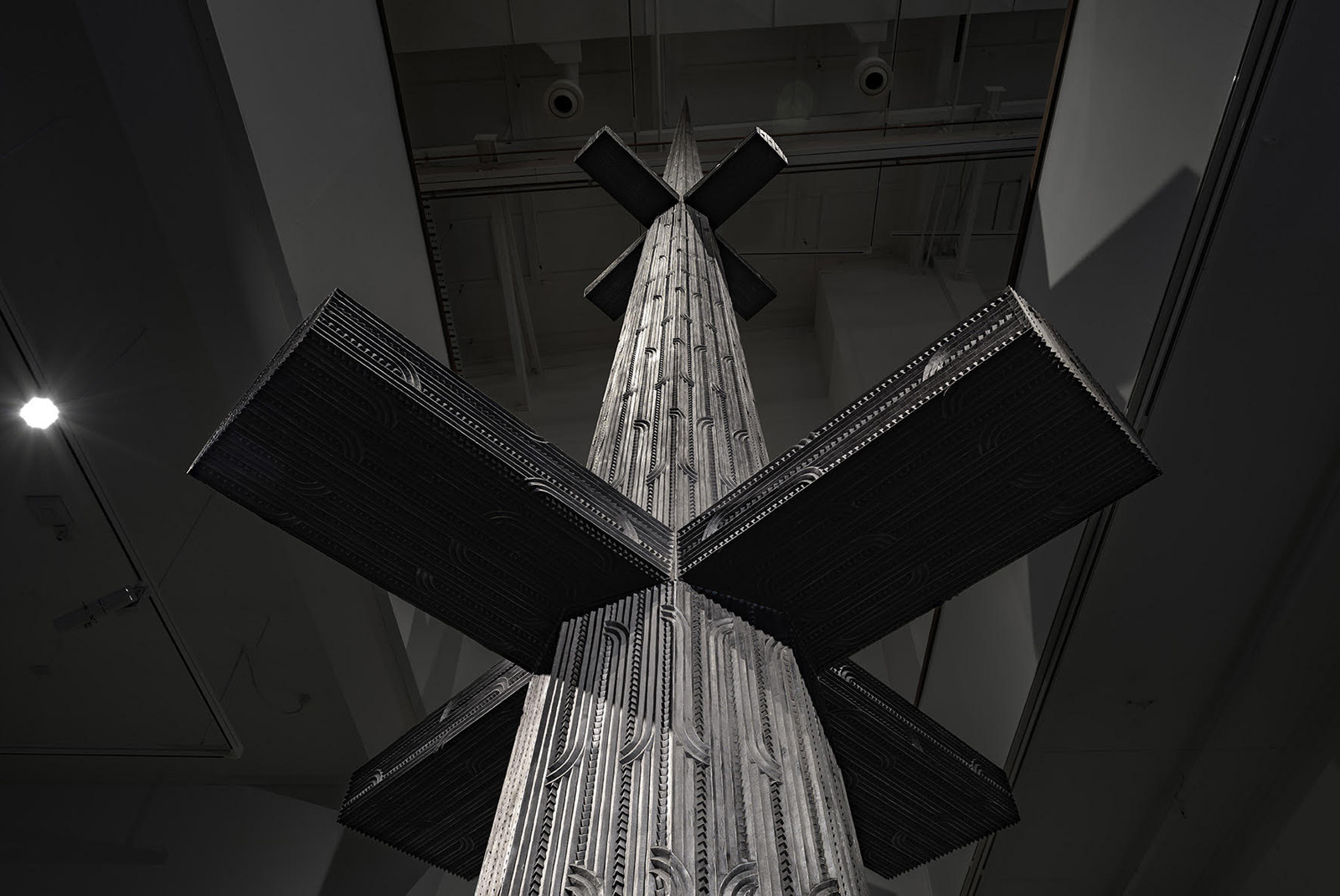 details
Cease Tide of Wrong-Doing
2020, Kauri, wood and metal, 9600 x 3000 (diam) mm
details
Cease Tide of Wrong-Doing
2020, Kauri, wood and metal, 9600 x 3000 (diam) mm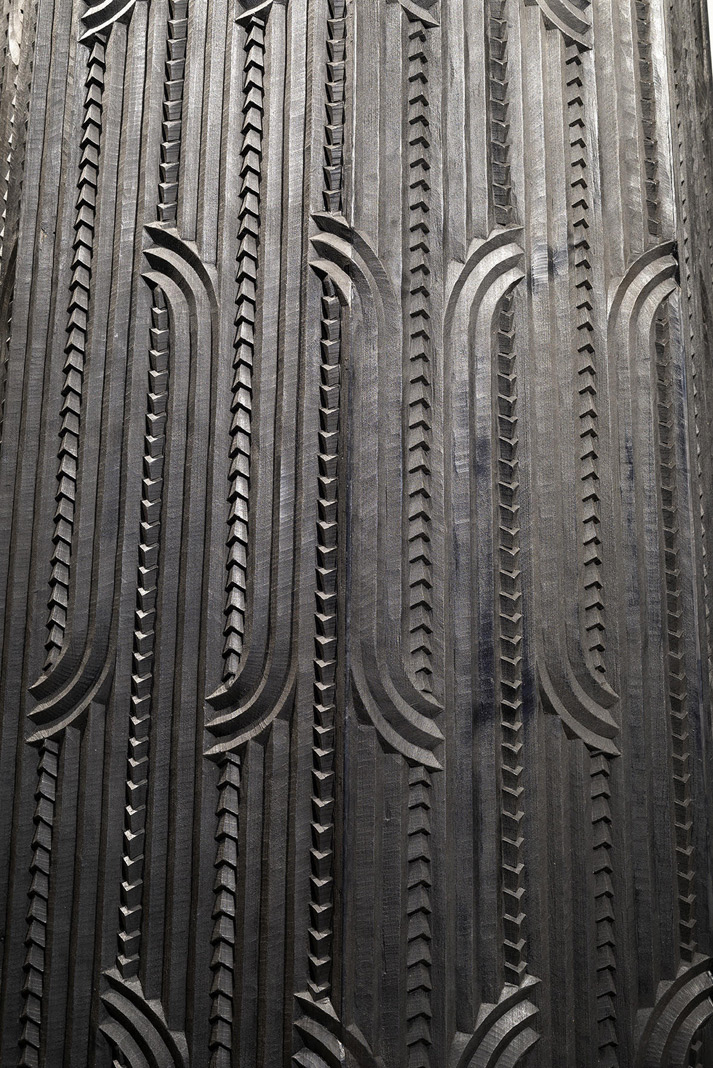 details
Cease Tide of Wrong-Doing
2020, Kauri, wood and metal, 9600 x 3000 (diam) mm